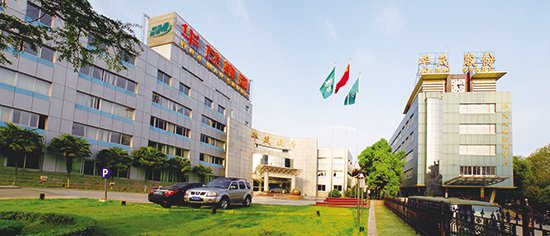 Founded in 1958, located in Anqing, Anhui, China with beautiful scene and long history, Anhui Huamao Group Co., Ltd. (the following HUAMAO for short) is an enterprise group which business items are spinning, weaving, knitting, singeing & mercerizing, yarn dyeing, printing & dyeing, financial investment and etc. Anhui Huamao Textile Co., Ltd is a listed company controlled completely by the Group (stock code: 000850).
HUAMAO has the annual capacity is about 55,000 tons of "Chengfeng" high-grade yarns from Ne5 to 600 counts, over 80 million meters of "Yinbo" high-grade grey fabrics from 120 to 360 centimeters widths can be produced per year. Both yarns and grey fabrics have been honored the title "China Famous Brand Products" and " National Customer Satisfactory Products" and etc..
In the 1970s, the yarn products exported to the Japan market, appraised as "Example of China Yarns Quality". Stepping into the 21st century, besides Japan, the products from HUAMAO have been exporting to high-end markets worldwide such as Italy, Germany, France and etc, and appointed as necessary fabrics by many brands companies at home and aboard.

As one of "The Top 10 Brand Culture" enterprises " and regarded as "China cotton textile top quality production base" ,HUAMAO has been ascended into "Top 500 of China Enterprise informationized construction", "20 enterprises with strong competitiveness in China's cotton textile industry ", " National Textile Technology Innovation Demonstration Enterprise". In 2012, HUAMAO has ranked first in "the Brand competitiveness of Chinese Enterprises Index (CBI)" reported by Chinese Academy of Social Sciences.
HUAMAO has been certified by ISO9001 quality management system, ISO14001 environment management system , GB/T28001 occupation, health, safety management system, ISO10012 calculation measurement system, BSCI (Business Social Compliance Initiative), MARK & SPENSER. C & A. and HUAMAO's products also gained OE, GOTS organic cotton certification as well.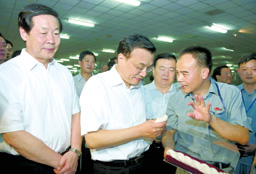 Annually, HUAMAO develops almost 1000 new items, and the output avenue rate of the new items is 41.25%. Particularly, the successful production of 600 count, 100pct Cotton Combed Yarn symbolizes the leading position of HUAMAO's spinning scientific level in the world. The production of grey fabric without size also symbolizes the breakthrough development of HUAMAO's fabric processing technology. Besides, HUAMAO takes the research of two projects for "Nation Science Planning and Supporting Projects".
In the recent years, in accordance with the management philosophy "Quality Oriented, technology first, Management-supported, Innovation sustainably", HUAMAO persists in improving the development level with technology innovation, promoting the market competition with quality innovation, unceasingly improves the devoting rate of technology and brand, and paves a road of refined products development with distinctive features.
In order to implement the "industrial transfer demonstration region of the city-cluster along the Yangtze River in Anhui" proclaimed by State Council, HUAMAO is putting effort into the construction of Huamao International Textile Industry City (hereafter Huamao Industry City for short) during the "12th Five-Year Plan". Huamao Industry City is located in Anqing Lingang development zone covering a planned area of about 500 hectares. The construction land for its first part plans to cover 190 hectares., was listed in so-called "861", one of the key supporting projects and industry plans realization in Anhui province, being fully supported by the Anqing government.
Huamao Industry City is located at the coast of Chang Jiang River with the rich water and the convenient transportations, HURONG, JINGFU, JINGXIANG, ANJING,, 5 river-along highways and national highways called #105、#206、#318 crossing this area. Meanwhile, the air flight to Beijing, Shanghai, Guangzhou , etc. are available; Also the ricer-along high-speed rail is under the way and Anqing has become one of the A class national open ports and the main inland river ports in the whole country.
The planned domains of the first part of the HUAMAO industry city contains innovation research center, ,dyeing and finishing area, yarn dyeing area, knitting area, industry area, and clothing area, and etc.
Innovation research center focuses on the scientific research and career services such as products design, research & development, examination, products presentation, technology promotion and training and etc. Also, it makes a technology innovation union in the industry city, in order to set a science service system with innovation in all the sectors from fiber, fabric to fashion design and production.
Refined products industry chain is in charge of dyeing and finishing, yarn dyeing, knitting, finishing and so on. It deals with the transformation of the high-end fabric and advanced production technology at home and abroad focusing on fabric design, research and production. Combining with layout, the industry city is going to produce fabric for industry, trimming, accessories and etc.
There have been four enterprises located there and in operation one by one since Huamao International Textile Industrial City laid a foundation in 2010.
One of companies is called Huamao & Beste company which is jointly established by Anhui Huamao and Beste in Italy. Its production is reliable on Huamao's high quality fabric as raw material, using the enzymatic treatment, high efficient short process pretreatment,cold pad-batch pretreatment and dyeing,short process wet steaming pad dyeing,overflow dyeing, small bath ratio dyeing, paint printing, digital spray ink printing, dyeing and finishing of cleaner production technology such as foam finishing and waterproof, oil-proof, soil release,flame retardant, antistatic and multifunctional composite functional finishing technology, production of environmental protection finishing high-grade textile fabrics, the annual processing capacity of 20 million meters. The range of products from the jacket to sport shirt, shirt fabrics, including natural fiber fabrics such as cotton goods, synthetic fiber fabric and new polymer fabric. At present the product has a line with the international well-known brands such as Armani, Zegna, Maxmars, Prada, Paolo, Lufroran, D.G etc.. It is of great significance to the breakthrough of technology bottleneck of our country high-grade fabrics industry and to the achievement of fabric internationalization.
Settled as a second,is Anhui Huamao Weaving &Dyeing Co., Ltd. a modern well-known textile fabric production enterprise, a collection of product research and production development, sales and service. The annual output of high-grade yarn-dyed fabrics amounts to 20 million meters. The company has a technical team for research and development of high-grade yarn-dyed fabrics and a first-class production and monitoring devices, advanced high-grade yarn-dyed fabric one-stop production lines. Dyed yarn shop: Lixin dye VATs and radio frequency dryers by Hong Kong, the laboratory is equipped with computer color matching DATACOLOR measurement instruments, macro profit without line drip proofing system by Taiwan. Weaving workshop: Benninger warping machines by Switzerland、Tsudakoma air-jet looms and sizing machines and Hsu rapier looms by Japan,And equipped with computer ERP system of high-end test machines. Finishing workshop: Osthoff singeing machines by Germany, Golla desizing machines, Monforts preshrinking machines and setting machines by Hong Kong, LAFER brushed machines by Italy. We are taking use of the low bath ratio dyeing process and a large number of beam dyeing; making up low formaldehyde, using enzyme desizing and no-iron in finishing which all appear low energy, low water consumption and low pollution so as to ensure that product quality and delivery time from the source control to provide non-stop quality service in the whole process control for high-grade fabrics with completed industrial chain, such as from cotton-spinning-dyeing-weaving to finishing.
Developing new atmosphere, and making high quality, Anhui Huamao Group Co ., Ltd is devoting its enthusiasm to deducting the special charm and the fashion sense of modern textile with Huamao's refined products and particular culture connotation. Meanwhile, in a significant pulse, complying with the economic action principle of "Reduction, Recycle, Resources", Huamao is also trying to be always endeavoring to do still better, making a new green textile concept.
Our dearest customers, you will find your favorite high qualified yarn-dyed fabric, colorful yarns of all kinds and refined service when you come into Huamao. We hope that being established on the strong Huamao base, persisting to make international brand enterprise, we can be the top runner in textile inheriting the glory and dream of the Chinese Silk Road.